Distance Bracket & Marking Guide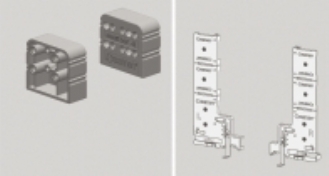 Smart Box distance bracket is used for In-Box applications of Smart drawer slides.
Ø6 mm Euro Screw is recommended to be used as fixing screw.
When calculating the drawer dimensions the thickness of the distance bracket should be considered as S=25 mm.
This template provides direct application to mark the front panels of Smart Box drawers without any measurement.
It can be used for drawers without, with single and with double gallery railing and side panel H:48 and H:112 models.
Front panel can be horizontally and vertically adjusted on the template.