Impro Non Soft Close Hinge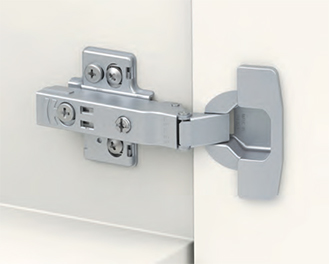 Opening angle: 110˚
Cup diameter: 35mm
Cup Depth: 12,54 mm
Hinge Body: Steel
Hinge Cup: Steel
Crank type: 0-9-18 mm
Finish: Nickel
Tool free and simple assembling and disassembling of the cabinet doors. Only one touch on the Track mechanism is enough to release and fix the cabinet doors.
The eccentric part covering the hinge's body adds a forward and backward adjustability of 4mm.
To be used in conjunction with Impro Soft Close Hinge. Refer to chart below.