SURTECO EdgeClean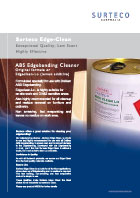 Exceptional quality, lemon scent, highly effective
Formulated specially for use with SURTECO PVC and ABS edgebanding, EdgeClean is highly suitable for on-site work and OSH sensitive areas. This product is highly recommended for all cleanup and residue removal on furniture and cabinetry.
EdgeClean is non smearing, fast evaporating and leaves no residue on work area, and a special lemon additive ensures a better working environment for staff.
Using aggressive solvents on ABS edgebanding is not recommended and can cause discoloration and damage the printed surface layer. EdgeClean has been developed to ensure care and prevent damage to the edgebanding.